Student Health Center
How to schedule an appointment
Appointments (including same day appointments) can be scheduled by phone. Please call us at 202-687-2200 for both Main Campus and Law Campus appointments.
A limited number of some appointment types can be scheduled directly online up to 2 hours prior to the appointment time:
We have additional appointments not available via online scheduling. If you are unable to find an appointment that works for you online, please give us a call!
Law Campus Clinic appointments are limited to Law Students and Residents of the 55 H St. Residence Hall
Some appointment types and "reasons for" appointments must be scheduled on the phone in order to make sure you are with the correct provider and given an adequate amount of time for your appointment.
If you have a question for our staff, you can reach us by phone OR message us through the patient portal at MyMedstar.org.
Welcome

Students

!
Staying healthy will help you maximize your educational experience and thrive while at Georgetown. At the Student Health Center, we believe you should develop personal responsibility for your health during your years at Georgetown University. We are here to help!
MedStar Georgetown Student Health Center, Main Campus
3800 Reservoir Road, NW
Ground Floor, Darnall Hall
Suite G20
Washington, DC 20007
Tel: 202-687-2200
Fax: 877-346-1469
FALL 2023 HOURS
Mon 8:00am – 5:00pm
Tue 9:00am – 5:00pm
Wed 8:00am – 5:00pm
Thurs 8:00am – 5:00pm
Fri 8:00am – 5:00pm
Sat 9:00am – 12:00pm
Sun CLOSED
MedStar Georgetown Student Health Center, Law Campus
120 F Street, NW
Gewirz Student Center
Lower Level, Suite LL102
Washington, DC 20001
LAW CENTER FALL 2023 HOURS
Mon   8:30am – 4:30pm
Tue     9:00am – 4:30pm
Wed    CLOSED
Thurs 8:30am – 4:30pm
Fri   CLOSED
Sat & Sun CLOSED
The Law Campus clinic is closed from 12 PM to 1 PM for lunch.
If you are on the Law Campus and need assistance, please call 202-687-2200 and our Main Campus clinical team will gladly assist you. E-Visits and appointments at the Main Campus are available to all GU students during our main campus clinic business hours.
Main Campus: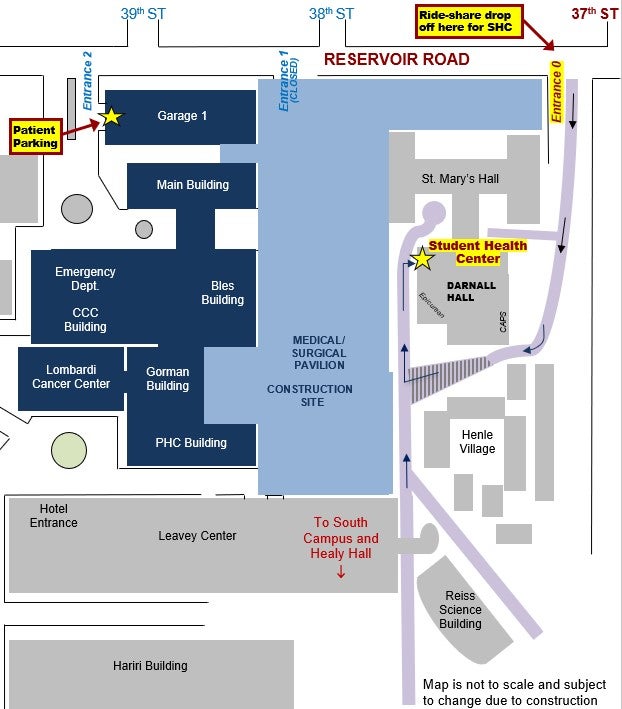 We are located between Epicurean Restaurant and St. Mary's Hall on the ground floor of Darnall Hall. Look for our blue awnings.
Pedestrians coming from North of campus or via ride share should enter campus at "Entrance 0" at Reservoir Road and 37th St. and follow the path down steps and around to the front of Darnall (see map). Please call us if ADA accessible entrance from the rear of the building is needed.
Parking for patients is available on the Hospital campus via Entrance 2 off Reservoir Road. Enter the parking garage to your left and your car will be valet parked at no additional charge. Entrance 1 will be closed due to construction of our new Medical/Surgical Pavilion. Click here for Construction Parking and Directions.
Law Campus:
We are located on the Lower Level of Gewirz Student Center on the Law Campus (next to the Early Learning Center, turn right when you exit the elevator).
Before visiting the health center, please call to have your lab visit scheduled.
Monday, Wednesday, Thursday and Friday 8:30am – 11:00am and 2:00pm – 4:30pm
Tuesday 9:00am – 11:00am and 2:00pm – 4:30pm
* Must have orders/prescriptions in hand or sent to clinic prior to your appointment for testing to be done.
Are you an established patient looking for the myMedStar Patient Portal?
If you are already a patient at the Student Health center and have patient related inquiries log in to your myMedStar Patient Portal at mymedstar.org