Student Health Center
Due to COVID-19 the Student Health Center is not accepting any walk-in appointments at both Main & Law Center Campus. If you need an appointment or to speak with our staff please call us at 202-687-2200 or message us through the patient portal at MyMedstar.org
Welcome Students!
Staying healthy will help you maximize your educational experience and thrive while at Georgetown. At the Student Health Center, we believe you should develop personal responsibility for your health during your years at Georgetown University. We are here to help!
MedStar Georgetown Student Health Center, Main Campus
3800 Reservoir Road, NW
Ground Floor, Darnall Hall
Suite G20
Washington, DC 20007
Tel: 202-687-2200
Fax: 877-346-1469
HOURS FALL 2021
Mon 8:00 am – 5:00pm Tue 9:00am – 5:00pm
Wed 8:00am – 5:00pm
Thu 8:00am – 5:00pm
Fri 8:00am – 5:00pm
Sat 9:00 am – 12:00pm
Sun CLOSED
MedStar Georgetown Student Health Center, Law Campus
120 F Street, NW
Gewirz Student Center
Lower Level, Suite LL102
Washington, DC 20001
LAW CENTER FALL 2021 HOURS
Closed Until January 2022

If you are on the Law Campus and need assistance, Please call 202-687-2200 and our Main Campus clinical team will gladly assist you.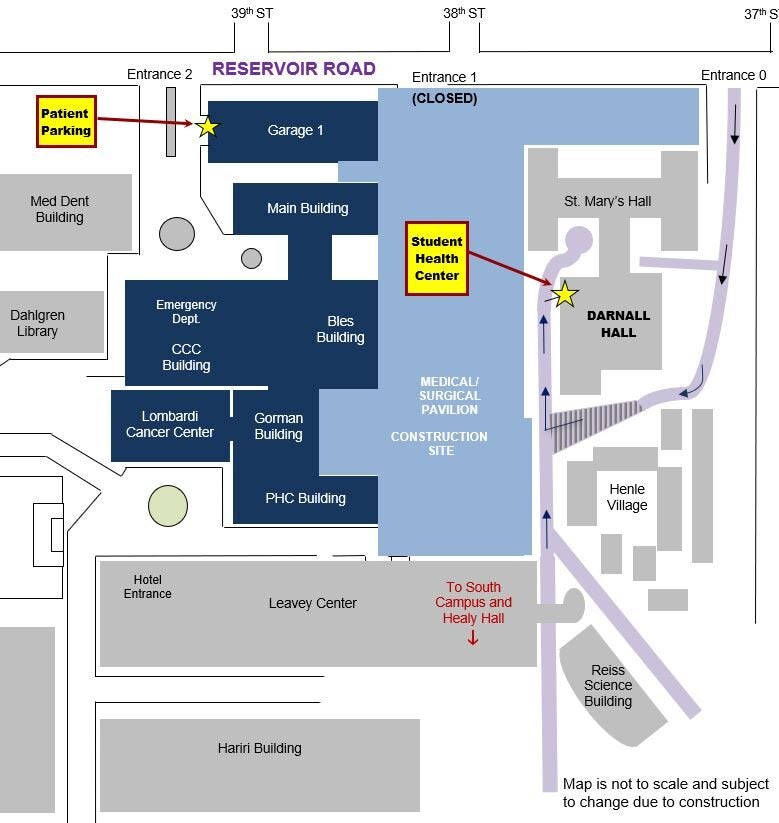 Main Campus:
We are located between Epicurean Restaurant and St. Mary's Hall on the ground floor of Darnall Hall. Look for our blue awnings.
Patients and visitors arriving by car must enter the Hospital campus via Entrance 2 off Reservoir Road. Enter the parking garage to your left and your car will be valet parked at no additional charge. Entrance 1 will be closed due to construction of our new Medical/Surgical Pavilion. Click here for Construction Parking and Directions details.
Before visiting the health center, please call to have your lab visit scheduled.
Monday, Wednesday, Thursday and Friday 8:300am – 11:00am and 2:00pm – 4:30pm
Tuesday 9:00am – 11:00am and 2:00pm – 4:30pm
* Must have orders/prescriptions in hand or sent to clinic prior to your appointment for testing to be done.
Are you an established patient looking for the myMedStar Patient Portal?
If you are already a patient at the Student Health center and have patient related inquiries log in to your myMedStar Patient Portal at mymedstar.org