Medical Care: Student Health Center
Welcome Students!
At the Student Health Center, we believe you should develop personal responsibility for your health during your years at Georgetown University. Staying healthy will help you maximize your educational experience and thrive while at Georgetown.
Locations & Hours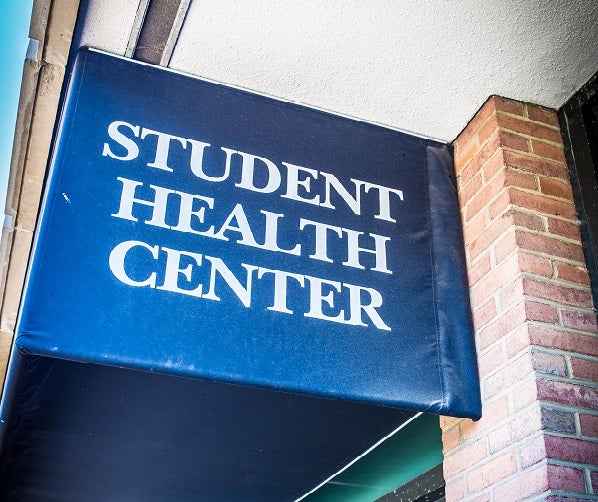 Main Campus
MedStar Georgetown Student Health Center
3800 Reservoir Road, NW
Ground Floor, Darnall Hall
Washington, DC 20007
Tel: 202-687-2200
Fax: 877-346-1469
Note: We are between Epicurean Restaurant and St. Mary's Hall on the ground floor of Darnall Hall. Look for our blue awning. Please notice our summer hours beginning Monday May 13, 2019.
Main Campus Construction Notification: Pedestrian access to the Student Health Center has been changing due to MedStar construction, however, regular and handicap access will be maintained. Please allow extra time prior to your appointment. If you have questions regarding access please call 202-687-2200 and choose Option #1.
Construction Parking and Directions: Patients and visitors must enter the Hospital campus via Entrance 2 off Reservoir Road. Enter the parking garage to your left and your car will be valet parked at no additional charge. Entrance 1 will be closed due to construction of our new Medical/Surgical Pavilion. Click here for Construction Parking and Directions details.
Mon 8:00am – 4:00pm
Tue 9:00am – 4:00pm
Wed 8:00am – 4:00pm
Thu 8:00am – 4:00pm
Fri 8:00am – 4:00pm

The Student Health's Center's main campus blood drawing hours are as follows:
Monday, Wednesday, Thursday and Friday
9:00am – 11:00am and 2:00pm – 3:30pm
Tuesday
10:00am – 11:00am and 2:00pm – 3:30pm
(You must have orders/prescriptions for Labs prior to having walk-in test done)
Law School Campus
MedStar Georgetown Student Health Center at the Law Campus
120 F Street, NW
Gewirz Student Center
Lower Level, Suite LL102
Washington, DC 20001
Tel: 202-687-2200
Fax: 877-346-1469
NOTE: The Law Center clinic will be CLOSED FOR THE SUMMER beginning Wednesday May 15, 2019 through September 3, 2019. Law Center students can continue using the services of the Main Campus Student Health Center throughout the summer.
More information on how to get to the Main Campus clinic from the Law Center can be found by viewing the GUTS shuttle website.
NOTE: GU School of Continuing Studies (SCS) students seeking medical care should use the Main Campus Student Health Center.
The Student Health's Center's Law Campus blood drawing hours are the same as the clinic's business hours. You must arrive 30 minutes prior to closing to ensure that you will be seen for laboratory services. Quantiferon/TB Testing is not available at this location.
Our Mission
Our mission is to provide high-quality, accessible and inclusive health care to the students at Georgetown University in the Jesuit tradition of cura personalis.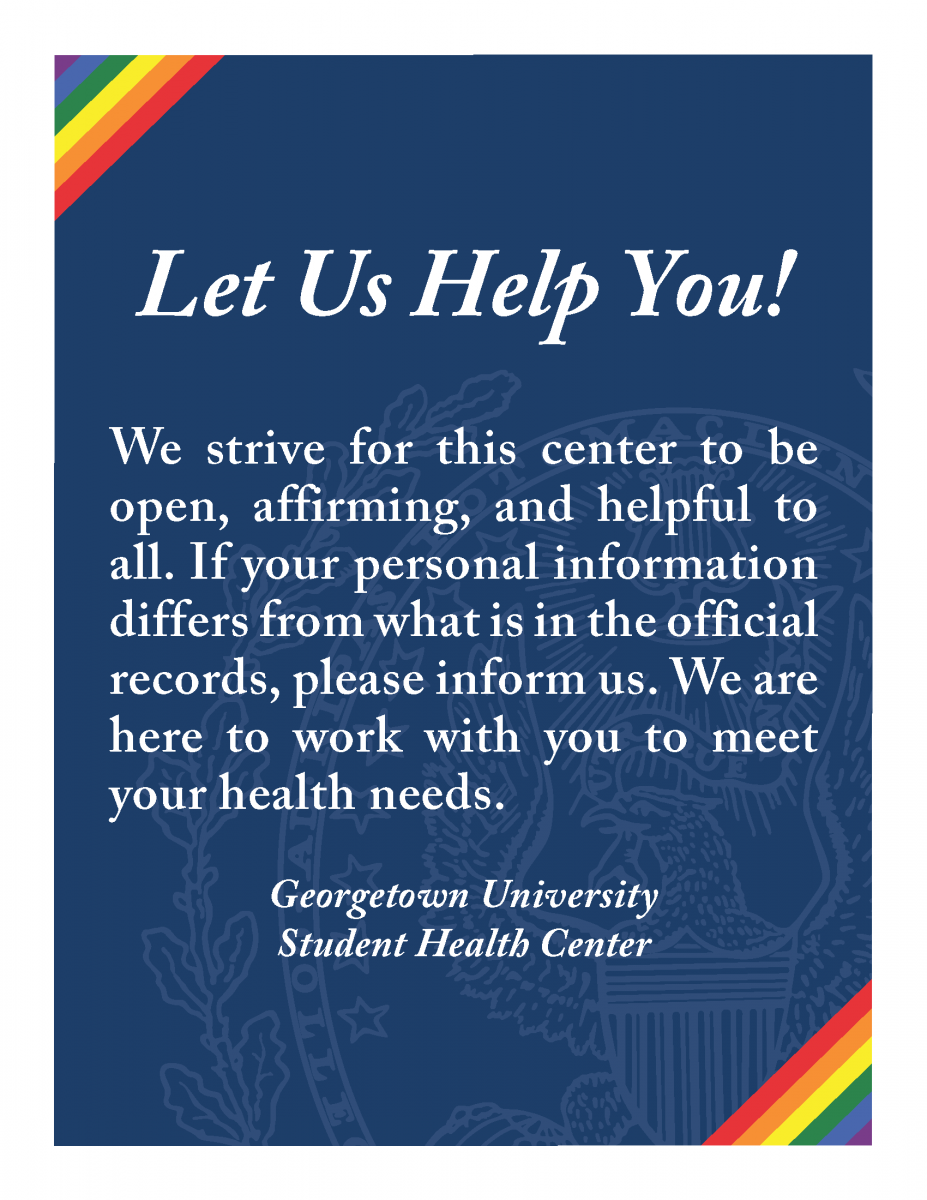 About Us
The student health center offers the full spectrum of primary care including on-site labs to Georgetown students with the mission of supporting health while in a rigorous academic environment. We do preventive care including physicals, well women, STI screening and pre-travel visits. We handle urgent needs such as infections, injuries, and more complex problems with same day appointments. We also manage chronic illnesses and provide prescription refills. We ensure compliance with immunization requirements and provide about 5,000 free flu vaccines yearly. A full description of each service is available on our services page. We have over 30 employees and 2 clinic locations – main campus and law campus.
We are owned and operated by MedStar Health. We are a Department of the MedStar Georgetown University Hospital, and accordingly, our physicians, nurse practitioners and staff abide by the Ethical and Religious Directives for Catholic Health Care Services, (Fifth Edition – 2009).
We close only on hospital holidays and remain open during University breaks. We also respond to population health crises when they occur on campus (such as influenza, norovirus, or meningitis). We look forward to serving you!
Our clinic is accredited by the Joint Commission on Accreditation of Health Care Organizations (JCAHO)