Instructions for Authorization For Release of Information Form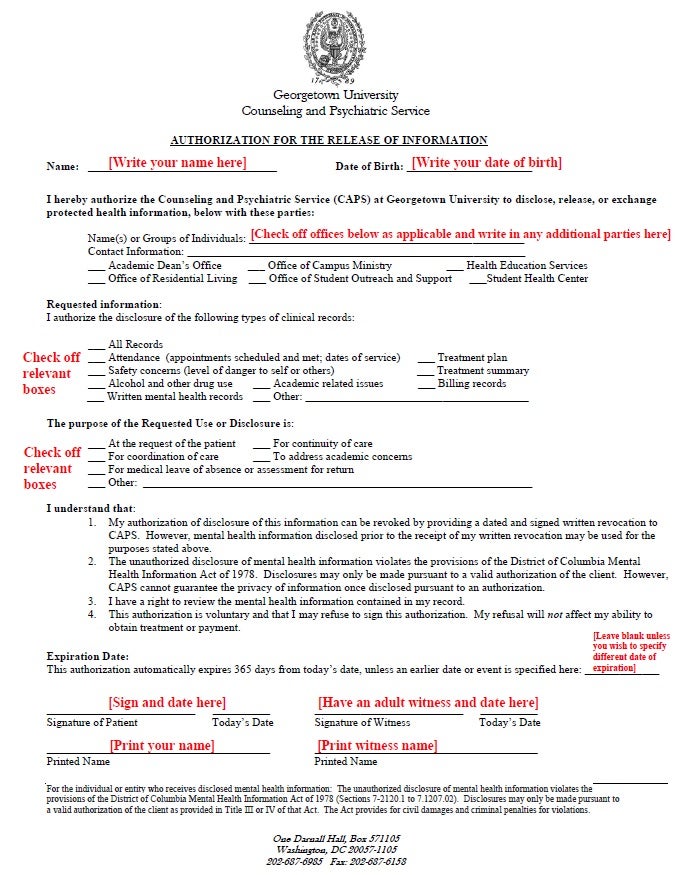 Incomplete or improperly filled out forms may be returned.
Put your name and date of birth in the appropriate blanks.
Where it says, "I hereby authorize the Counseling and Psychiatric Service at Georgetown University to exchange protected health information below with these parties:" enter the name and contact information of the individual with whom you would like CAPS to communicate ro check of the Georgetown office.
Check the relevant boxes where it says "I authorize the disclosure of the following types of clinical records created during the period from first contact with CAPS through the date of signature below, unless another time period is specified:"
All records
Attendance (appointments scheduled and met; dates of service)
Treatment plan
Safety concerns (level of danger to self or others)
Treatment summary
Alcohol and other drug use
Academic related issues
Billing records
Written mental health records
Other:
Check the relevant boxes where it says: "The purpose of the Requested Use or Disclosure is:"
At the request of the patient
For continuity of care
For coordination of care
To address academic concerns
For medical leave of absence or assessment for return
Other:
You do not have to fill out the following blank unless you want to:
"Expiration Date: This authorization automatically expires 365 days from today's date, unless an earlier date or event is specified:
Sign and date the form.
Have a witness sign and date the form.