Zika Virus Information
---
Zika is a virus infection spread primarily through mosquito bites, although it is possible to transmit the virus through sex. The most recent virus outbreak has been concentrated in Central and South America, and the Caribbean, but there have been several new locally transmitted cases in parts of South Florida. (See location map here)
Most people infected with Zika won't have any symptoms or will have only mild symptoms, and will fully recover without any treatment. However, Zika infection in pregnant women can lead to birth defects and should be monitored closely. The Student Health Center is prepared to answer questions you have related to Zika and testing is available at our clinic for certain individuals.
Testing For Zika
Testing is available free-of-charge at the Student Health Center through the DC Department of Health, however, only certain individuals will be tested.
Any person with a positive travel history and who develops one or more of the symptoms consistent with Zika (see above) within 2 weeks of travel or sexual exposure. Testing is to 12 weeks after return/exposure.
All pregnant women should be tested, regardless of symptoms, if they have traveled to an area with Zika, or have a partner who has traveled to an area with active Zika.
Testing is NOT recommended for men, children or women who are not pregnant who have a positive travel history but no symptoms of concern or whose travel/exposure was more than 12 weeks ago.
---
Please see the infographic below and visit the Centers for Disease Control and Prevention (CDC) website for more information about Zika.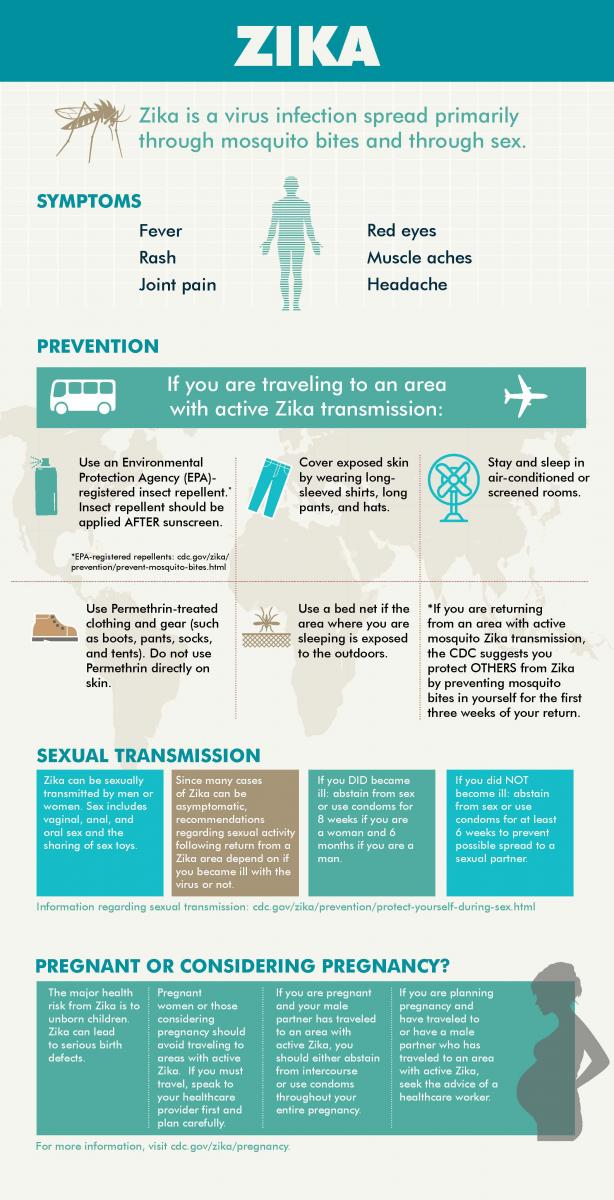 EPA-registered repellents: http://www.cdc.gov/zika/prevention/prevent-mosquito-bites.html
Information about Zika and sexual transmission: http://www.cdc.gov/zika/prevention/protect-yourself-during-sex.html
Information about Zika and pregnancy: http://www.cdc.gov/zika/pregnancy