Eating Disturbances
Eating disturbances (including but not limited to eating disorders such as anorexia, bulimia, and binge eating) can occur in any college students. These disturbances are characterized by maladaptive eating patterns that affect a person's physical and mental health. Some common forms of eating disorders are anorexia nervosa, bulimia nervosa, binge-eating disorder, and orthorexia.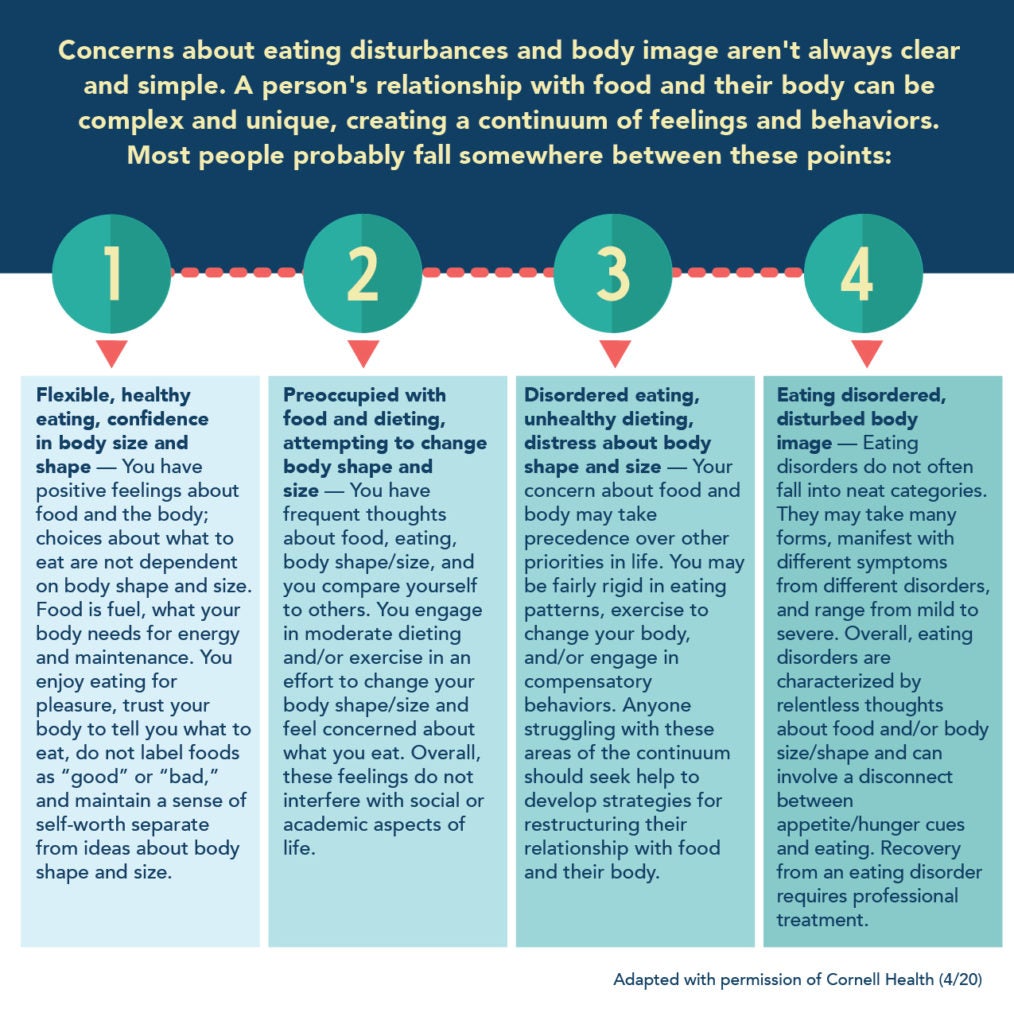 Eating disturbances are highly dependent on social and cultural influences, but they also can produce profound physical effects. Symptoms/warning signs of eating disturbances can include physical, emotional, and behavioral symptoms. Some common ones are:
Some Common Eating Disorders
This is not an exhaustive list of eating disorders, eating disturbances, other conditions that might relate to and affect food consumption, or all of their signs and symptoms. For a more comprehensive list, please visit the National Eating Disorder Awareness website for more information and resources.
Treatment
Eating disorders are complex psychological, sociological, and biological conditions, and usually must be treated by medical and mental health professionals. It's important to reach out for help when feelings, behaviors, and thoughts relating to food and body size/shape take precedence over other priorities in life. Treatment options include individual/group/family psychotherapy to help patients replace unhealthy habits with healthy ones, nutrition & body education, some medications to address possible co-occurring mental health concerns (e.g. depression).
Sonja Lillrank (Associate Director for Psychiatry, CAPS, sml87@georgetown.edu), Carol Day (Director, HES, daycr@georgetown.edu), and Leanne Lash (Physician, Student Health Center, leanne.lash@georgetown.edu) can all be contacted as resources and support for eating disorder concerns.